Using Narrative Stories to Understand Traditional Ecological Knowledge in the Great Basin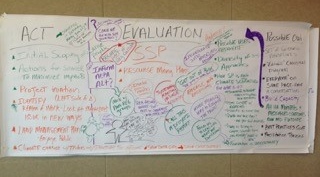 This pilot project uses a method of naïve interviewing with tribal youths to gather narrative "micro stories" from elders and key tribal members and then answering a series of carefully constructed questions that allow participants to apply context and meaning to their stories. These questions can then be analyzed quantitatively using correlational statistics to identify key themes and patterns across the narrative dataset.
This approach has several advantages including:
It uses tribal members to gather the data.
It provides a link between the generations to raise awareness about environmental concerns and TEK.
One Year Project Update
The project will begin collecting stories at the World Water Day Celebration in Bishop, CA on March 22, 2016 and at the Bishop Earth Day Celebration on April 17, 2016. Additionally, the team will begin working with students in Bishop this semester to interview their family members about their stories surrounding the concepts of traditional ecological knowledge. Data collection will be completed this year with a final report in December 2016.
Project Documents
Theme: Cultural Resources
Project start date: 1/1/2015
Fiscal year funded: 2014
Project status: Active
Project managers: Dr. Tamara Wall, Desert Research Institute