Using soil climate and geospatial environmental characteristics to determine plant community resilience to fire and fire surrogate treatments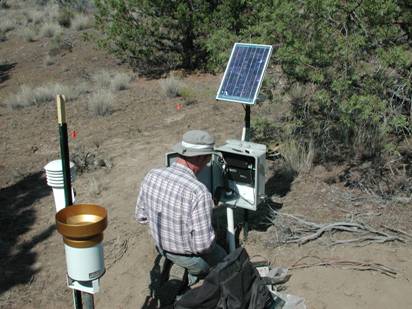 Project Overview
This project associates site-measured soil climate and other soil variables, and geospatially-derived site environmental characteristics with perennial herbaceous and cheatgrass cover in treated and untreated Great Basin wooded shrublands.
The project team will:
Use vegetation and soil data already collected in SageSTEP and tree shredding studies.
Develop models to indicate potential vegetation response to tree reduction treatments both for current and projected climate conditions for a wide range of sites. Develop ranges of key attributes associated with less to more resilient sites.
Publish a guide on the SageSTEP website on how to use our models and findings as decision support tools.
One Year Project Update
The researchers are investigating plant community resilience to fuel control treatments such as fire and mechanical tree removal where pinyon and juniper trees have expanded into sagebrush communities. They are relating environmental characteristics derived from Geographic Information Systems (GIS) to site resilience. Resilience of a site is indicated by its return to perennial shrubs, grasses and forbs after tree-reduction treatments. A lack of resilience is indicated when sites become dominated by weeds such as cheatgrass. The team hopes to help managers chose resilient sites for treatment.
In addition to GIS data, researchers are using on-the ground vegetation and soils data from two large regional datasets: the Utah regional shredded juniper project, and the Sagebrush Steppe Treatment Evaluation Project (SageSTEP). With the first dataset, they've determined that long rather than short duration of high summer temperatures is associated with increased cheatgrass cover after mechanical tree reduction in Utah.
The team also mapped estimated cheatgrass, perennial tall grass and perennial short grass response to tree reduction treatments. With the SageSTEP dataset, the researchers are determining how soil climate, vegetation components, and other site characteristics interact or directly influence cheatgrass response six years after fire and mechanical tree reduction across the Great Basin. The preliminary results indicate that large vegetation gaps, increasing soil clay content, increasing temperature and decreasing precipitation are associated with increased cheatgrass cover.
Project Documents
Theme: Climate Change, Disturbance and Development, Plants, Soil and Site Stability
Project start date: 1/1/2015
Fiscal year funded: 2014
Project status: Active
Project managers: Dr. Bruce Roundy, Brigham Young University