All Lands, All Hands – Addressing the Needs of Sagebrush Ecosystems
3/17/2016
The motto "all lands, all hands" rang true at this year's 2016 Sagebrush Ecosystem Conservation conference held in Salt Lake City, Utah. More than 500 managers, scientists, academics and private land owners from across the West attended the conference to share their latest research and discuss how to work together to improve sagebrush conservation. An additional 200 people viewed the proceedings online via live broadcasts.
"This year, the Great Basin Consortium, of which the LCC is a member, teamed up with the Western Association of Fish and Wildlife Agencies and Utah State University to host an event that would attract a broader group of people who have a stake in the Great Basin's future," said Great Basin LCC Coordinator, Rick Kearney, "The high level of public interest in this conference surpassed all of our expectations."
The western sagebrush ecosystem, one of the largest ecosystems in the U.S., faces unparalleled dangers: rangeland fires, invasive species, climate change and drought. Many agencies and organizations have played important roles in addressing these threats, but past conservation efforts have been fragmented. Conservation leaders now recognize the critical importance of collaboration in order to sustain a healthy, thriving sagebrush ecosystem. The Sagebrush Ecosystem Conservation conference acted as a venue to further this collaboration.
"This is really an unprecedented undertaking," said Janice Schneider, Assistant Secretary of the U.S. Department of the Interior, and one of the speakers at the conference. "We're working across a huge landscape of the West. We're sharing the best available science. We're taking all of that and we're translating it into an action plan, or really many action plans, to protect, restore and preserve the landscape. It really truly is an all hands, all lands strategy."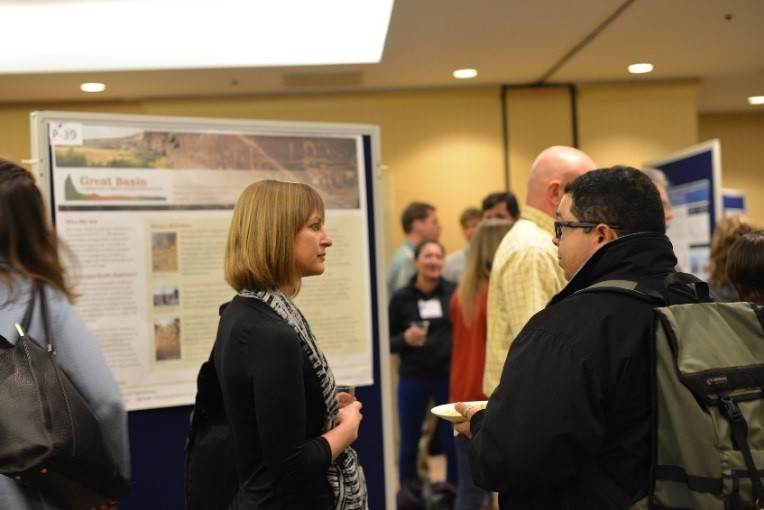 Todd Hopkins, Great Basin LCC Science Coordinator, led a session on exploring the appropriate use and protection of Traditional Knowledges and provided examples of how they can be incorporated into resource planning and management. The Western Association of Fish and Wildlife Agencies reflected on a summit that brought an assortment of stakeholders together to tackle invasive weeds. In addition to the speakers, Rick Kearney, Great Basin LCC Coordinator, serves on a team that is writing a national action plan based on recommendations provided by summit participants.
Participants also perused a poster session where researchers shared highlights of their work and descriptions of collaborative, educational or management programs with an audience that included many influential people working on important Great Basin conservation issues.
Conference goers stayed throughout the week to address important questions and topics, filling conference rooms to their maximum capacity. The conference organizers anticipate posting video footage of speakers on the conference website in the coming months. To learn more about the conference and view the agenda, please visit the Sagebrush Ecosystem Conservation 2016 website.