Mapping Wetlands in the Great Basin
12/5/2016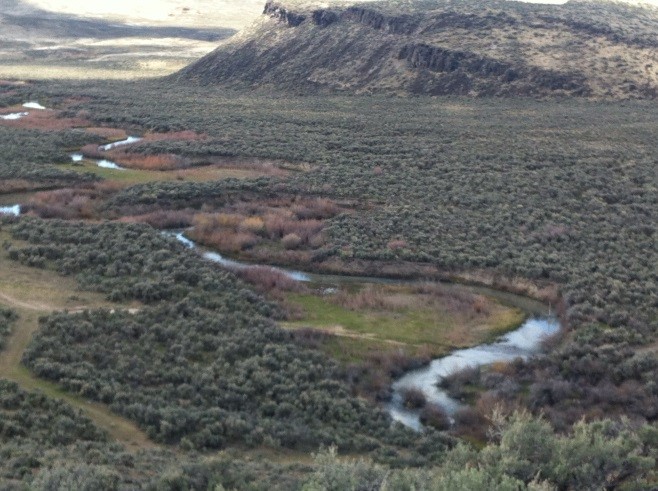 "Despite encompassing less than 2 percent of land area, wetlands are keystone features that structure populations, as evidenced by more than 80 percent of [sage-grouse] breeding distributions clustered within 10km of wetlands."
Statement by Patrick Donnelly, et al.
In the semiarid Great Basin, water availability dictates the abundance and distribution of fish and wildlife. To make scientifically sound conservation and regulatory decisions for these areas, resource management agencies increasingly rely on high resolution wetland maps and data.
Of the five Great Basin states, Nevada has the least amount of high-resolution wetland map coverage. Most of Nevada's maps were created in the mid-1980s, and show a resolution far lower than the National Wetlands Inventory (NWI) standards. Much of Nevada's wetlands provide important habitat for Greater Sage-grouse, a keystone species in the Great Basin. Higher resolution maps are needed to help prioritize habitat conservation efforts for the birds.
The Great Basin LCC saw the need to update Nevada's wetland map inventory and partnered with the NWI Program to specifically address sage-grouse habitat. With Great Basin LCC support, the NWI team downscaled and field checked wetlands data for over 500 quadrangles in priority Greater Sage-grouse habitat. Over the course of two years, the team has mapped approximately 19 million acres of habitat, over half of the Greater Sage-grouse's priority habitat in Nevada.
Two areas in Nevada were identified as high-priority for Greater Sage-grouse habitat. The team completed mapping for all of priority area one (shown in yellow and pink in the below map). Lower priority areas in the state (in blue on the below map) will be completed by 2018.
The resulting maps are intended for landscape-level planning, biological monitoring, refuge conservation planning, flood and mitigation planning, and threatened and endangered species habitat conservation and restoration potential. It will provide a vital tool for resource managers and the NWI.
"The National Wetlands Inventory Program has been thrilled to work with the Great Basin LCC to bring open access, high-quality, up-to-date, geospatial wetlands data to decision makers," said Elaine Blok, project manager from NWI. "Accurate data are essential to resolving the conservation challenges we face from the impacts of development and climate change on fish and wildlife and to address long-term protection of wetland resources. These efforts require the ability to communicate about wetland data and science with partners and the public on many levels."
Want to learn more? View a presentation about this project>>>