An Added Dimension in Studying Climate Change
2/17/2017
Dr. Samantha Chisholm Hatfield's latest blog, "The Importance of Traditional Ecological Knowledge (TEK) When Examining Climate Change," provides a thought-provoking perspective on the value of integrating TEK with contemporary science. TEK evolves and grows over several generations, and indigenous communities rely on TEK data for activities like hunting, gathering and fishing as well as for planning purposes. While often overlooked as a conservation tool in ideologies based on western scientific paradigms, TEK contributes a new way of looking at and analyzing ecological questions and phenomena, illuminating context that more conventional western approaches might miss.
When addressing complex conservation issues like climate change that impact different landscapes and ecosystems in different ways, TEK's holistic approach can be extremely valuable. In Dr. Chisholm Hatfield's words:
"TEK can help to clarify, enhance, and even augment knowledge that is long believed to have been studied exhaustively. When properly applied, TEK can often create a 3D approach to climate change issues, rather than the usual 2D regular printed paper or computer screen analyses... TEK offers an integrated system of environment and timing knowledge that adds a dimension where none has been fully examined previously."
She reminds that following the Indigenous community's guidelines is imperative when working with any tribe or community. The blog also discusses how western science often discounts TEK and the challenges TEK experts face in advocating for the integration and inclusion of this holistic expertise.
The Great Basin LCC was proud to support research by Dr. Chisholm Hatfield in 2015 looking at the impact of climate change on Native traditional culture and practices. Read more about this work and the immense value of TEK in her own words now!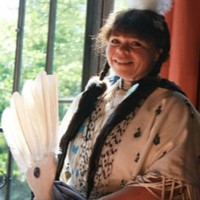 Photo credit: Dr. Samantha Chisholm Hatfield